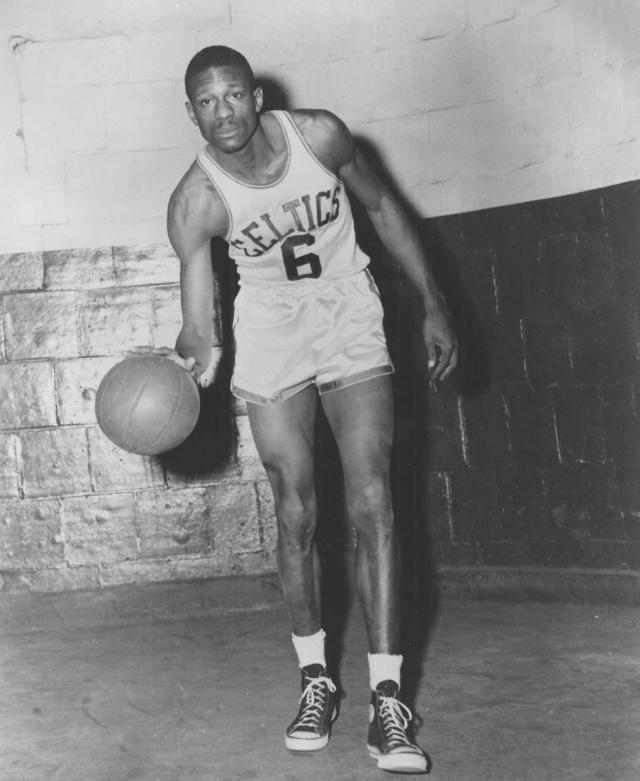 At 6' 10", Bill Russell was a very tall man. 
He was also one of the greatest basketball players of all time, perhaps the greatest.  He was a total team player, who always looked for a chance to pass the ball to a teammate who had a higher scoring average.  He was a leader in the world of sports from his college days, when he captained his team and led it to championships in 1955 and 1956, and then became captain of the U.S. Olympic basketball team which won gold in the 1956 games in Australia. He was the first African American coach or manager of any major sports team.  For most of us, that would have been enough. 
But it wasn't for his brilliant basketball career that he was awarded the Presidential Medal of Freedom.  
Because Bill Russell was so much more.
He was a man who had principles and convictions and who upheld them even at the risk of his reputation and career and probably even his life.  He spoke out unceasingly about the racism that people of color find in every nook and cranny of American life and about the racism faced by Native Americans.  He refused to play an exhibition game when a local restaurant would not serve him and his African American teammates.  He marched with Dr. Martin Luther King.  He stood with Muhammad Ali when he refused to serve in the U.S. military.  He put his Medal of Freedom around his neck and had his picture taken kneeling in support of the football players who had knelt during the National Anthem and then had been publicly attacked by Donald Trump and others.
Bill Russell wrote eloquently about how far we have to go in this country to achieve freedom for all, while acknowledging that prejudice is not unique to any race.  "All of us have prejudice," he wrote.  "The struggle is to keep prejudice from turning into bigotry and hatred."
And Mr. Russell advocated for equity in our educational system, a cause very dear to us at WAMS.  "In order to eradicate racism, we must provide our children with an education that includes all American history and that examines how that history continues to shape our institutions, beliefs and culture."  That's a goal for all of us.
Bill Russell was not just a very tall man.  He was a very big man.  And a great American.